Mumford High School

What's New
Posted on: May 22, 2023 at 11:58 AM
Happy Happy Birthday, Betty Lou!
Happy Birthday Joani! Thanks for keeping the website so readable!

Warm regards
Paula
Hey,

Belated happy B-day.

GR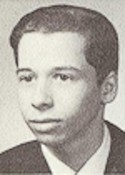 Posted on: Apr 15, 2023 at 1:06 PM
Happy birthday young man
Posted on: Apr 11, 2023 at 11:29 AM
Hey,

Happy b-day!!!!

GR
Howard (aka Churchkey) and I were good friends. Our group included Kenny Kaplan, Roy Slavin, Ed Superfon, Bobby Moss, Bobby Lipin, Don Surath, Alan Berlin, Jess Elson, Sheldon Levine and many others that slip my mind. For that I apologize. I also apologize for taking so long to remember a good friend.
One really cold winter night we were driving around in Howard's car and we ran out of gas and ended up in a Palmer Park lot well after midnight. We couldn't call anyone since cell phones didn't exist and we were too cold to walk to a gas stattion. We ended up sleeping in the back seat of his car. There were a coupld of blankets in the trunk which helped us survive the cold night. In the morning we found a pay phone and I think we called Kenny or Roy to jump start the car. We were all crazy IN A GOOD WAY.
The last time I saw Howard was in his hospital room shortly before he passed. I will never forget my friend.
Posted on: Feb 02, 2023 at 7:10 PM
Happy Early Birthday, Gay. Enjoy your special day! Warmly, Karen
Posted on: Dec 29, 2022 at 4:58 AM
Happy b-day

GR